Contemporary Art
Fair of Rochester
Presented by Kristen Campo Fine Art
Kristen Campo, the art dealer/ interior designer has decided to stay home and put her 20 years combined experience to good use to create a high-end art fair in Rochester and give the local community the chance to experience the high drama and interactive environment of the world art fair. Be prepared to see artisans who have consistently displayed their work on the platform of the big city show and come prepared to find a collection of emerging talent that will surely leave an impression! We have artists from the Europe, Canada and the US! Works of art in every medium that you can imagine!

"There is a lot of serious talent out there. My artists go to work everyday in their studios as professionals, this is not a hobby to them. They labor painstakingly at their craft. Artists who research and travel sometimes around the world to gather information and materials." These are the type of creative personalities Kristen looks for as an art dealer. Campo has compiled a group of impressive artisans for the 2018 Contemporary Art Fair of Rochester. This will be a highly interactive event.
Susan Pullman Brooks sees art everywhere, especially in the natural world's processes of life and death, and in the lost and forgotten remnants of culture. A perfect day is spent scavenging, searching for bones, glass, antlers, metal from abandoned farm equipment in the fields and rocky ravines at home in western New York, during her regular trips to India, and everywhere she travels. Through rethinking and combining these objects in her studio, she creates her work. In that process from discovery to realization there is a deep and rich connection to worlds of Hindu and Celtic mythologies and the solar system informed by both a personal spiritual narrative and inspiring historical worlds. "What is laid bare by the earth and sea is an unconcealed passion made vivid in her work."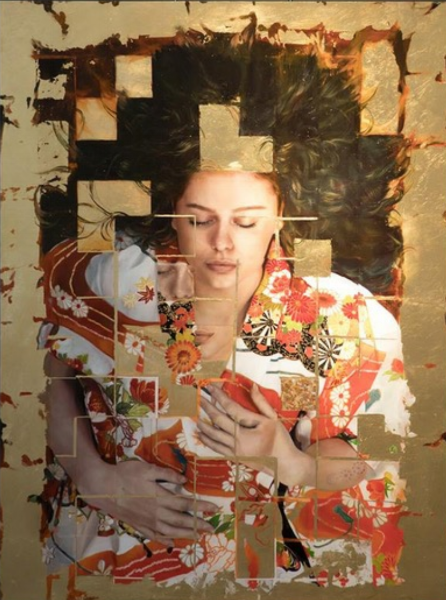 Marissa Oosterlee (1981) is a Dutch artist and illustrator. Over the following years, Marissa acquired worldwide attention with her photorealistic paintings. In these works Marissa creates her own reality, convincingly realized with photorealistic painting techniques. Her love for nature can be recognized in her magical realistic works, sensitively depicting the world of fairies, elves and forest animals. She has been awarded several times for her work. In 2004, she won a national Dutch painting competition with her portrait of the Queen of Holland. Also, she was a finalist in a prestigious painting competition organized by Artist's Magazine for her work 'Left Behind' (2007). Q&A's and works by her have been published by several newspapers, tv programs, international magazines. Nowadays she remains in The Netherlands, running her own gallery and studio (Foxy Studio).
Albert Paley, an active artist for over 40 years at his studio in Rochester, New York, is the first metal sculptor to receive the coveted Institute Honors awarded by the American Institute of Architects, the AIA's highest award to a nonarchitect. "The allure of Paley's art comes through its intrinsic sense of integration of art and architecture," as one noted architect stated. Paley, holds an Endowed Chair at the College of Imaging Arts and Sciences at Rochester Institute of Technology. Paley has completed more than 50 site-specific works. Some notable examples are the Portal Gates for the Renwick Gallery of the Smithsonian Institution in Washington DC, Synergy, a ceremonial archway in Philadelphia, the Portal Gates for the New York State Senate Chambers in Albany. Pieces by Albert Paley can be found in the permanent collections of many major museums including the Metropolitan Museum of Art in New York, the Museum of Fine Arts in Boston, the Museum of Fine Arts in Houston, and the Victoria and Albert Museum in London.
Maya Eventov grew up in Leningrad in the former Soviet Union. St. Petersburg. The works of the post-impressionists and those of the Russian Avant-Garde especially fascinated Eventov. The palette of Matisse and Gauguin aected her interpretation of color while Rodchenko and Malevich inuenced her sense of balance and composition.
As a student sheparticipated in the various state juried exhibitions, but always found themtraditional and boring. She much preferred the underground exhibitionsorganized by the students. After graduating in 1987 with a masters degree in graphic design, she began working as an illustrator for children's books. Eventov took advantage of the fall of the Iron Curtain by travelling, exploring the lands of her dreams. In the early 1990s she immigrated to Canada. Here she found an immediate appreciation for her artwork and quickly became involved in the local art scene. Today Eventov and her family reside just outside of Toronto, Ontario. Eventov continues to travel, nding inspiration for her works in the varied landscapes around the world. Her work is represented in galleries
Emilija Pasagic is a native of Belgrade in the former Yugoslavia. Pasagic studied landscape architecture at Belgrade University, where she met her husband. After graduation, the two worked together as designers. As hostilities arose in the region during the early 90s the couple decided to immigrate to Canada where they settled in Ontario.
She quickly became involved in the vibrant Toronto art scene, joining "The Scollard Street Artistic Cooperative" and VAO (Visual Arts Ontario). Pasagic admires the works of many different artists but has a special appreciation for the works of Croatian painter Mersad Berber. She sees her artwork as a personal expression, an expression that is rooted in her love and fascination with people and their intricate relationships with each other. Today Pasagic works out of her home studio in Ontario. She is represented in select galleries throughout Canada, Great Britain and the USA.
I am intrigued by how light emerges from shadow. How color cloaks form. How the accident foils the plan - unceremoniously rerouting the vision. The moment when opposites meet and determine each other. The idea that one cannot exist without the other…life/death, waking/sleep, pain/joy.
I studied fine art at Boston University before attending Parsons School of Design as an illustration major. After a career in textile design and children's books, I returned to painting, continuing my studies at the San Francisco College of Art. My works are part of private collections around the world including political figures and distinguished members of the entertainment industry.
Brian O'Neill's work has been showcased in galleries across the United States, Canada, England, and Japan, and has been included in several museums shows where he has won awards and praise. O'Neill's formal training in representational drawing and painting gave him the freedom to create in both worlds—the recognizable and the imagined. His expressive Contemporary Landscapes work explores the natural world around us by abstracting horizon, atmosphere, water, and rough texture that is juxtaposed with luminous metal leaf. Collectors are amazed to discover that the same artist has created a highly-refined oil realism painting as well as a contemporary abstract.
Multi-media and mixed media are terms that have to be used when examining Nemos art. He can and often does work in a very traditional style. Using both oils and acrylics he creates paintings with a plein-air feel. He is able to capture the light and feel of a place and impart that feeling to the viewer. Nemo is also constantly investigating and developing new techniques. His international cityscape series is an innovative style combining photography, printing and painting. Through printing and subsequent pasting of his photographs; he then paints with acrylics and glazes to construct a fused and somewhat surreal vision of different cities. The charm and mood of famous cities are combined to create a dreamlike memory of time and space.
Jay Seaman's technical knowledge comes from his 25+ years of experience in the fields of sculpting and woodworking. Notable highlights of Jay Seaman's work can be seen at Cornell University, and at the Montezuma National Wildlife Refuge. Jay's impressive woodworking skill is demonstrated with his elaborately carved mahogany mantel, at Cornell's restored Sage Hall. In 2016, Jay Seaman was commissioned by the U.S. Fish and Wildlife Service to commemorate its eagle restoration program, and Jay welcomed the challenge in creating the stainless-steel eagle. Jay Seaman also sculpts whimsical sculptures of people, animals and insects. Recent collaborations have also included Corning Museum of Glass.
Kristen Campo is the owner and operator of her namesake gallery, Kristen Campo Fine Art. She made a pivotal decision this year. The art dealer became frustrated with the big cities. They seemingly got all the creative attention and excitement. She decided it was time to bring that same energy to Rochester. The exact way that fashion week arrived to feed the high end garment needs of local fashion aficionados. Similarly in the manner that the Jazz Festival seems to satisfy the highly tuned ear of local musician's cultivated tastes. Campo believes that serious Rochester art collectors need to have the diversity of the vast art world brought to their door step.